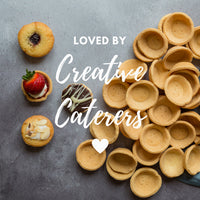 Amazingly Versatile
Whether it's for a corporate function, beautiful weddings or even kids birthday parties our gluten and wheat free range of Flours  are so versatile that the results will be adored by all the guests and contribute to the perfect 'do'.
SHOP NOW
What They say About Us
 8 March 2019· ' I've never made perfect gluten free pastry but this one from Oast To Host is excellent. Filled it with breadcrumbs, treacle and coconut cream'

Prue Leith
The best pastry I have ever had.

Great Taste Judge
'It's much better than some of the pastry we have tried to make that is solely gluten free. It's less brittle. Eats well too. Colour as you can see is excellent. I would recommend it, easy to use at home or in the work place' .Claire then summarised with '.All in all a great product.'

Claire Clark MBE, who is widely regarded as one of the finest pastry chefs in the world. ' The Caterer'
They were an Easter gift for my partner who is gluten free and she says they were the best tarts and cakes she has tried. And for her to say that, they must have been good. It's very hard to find good quality gluten free food, but these were fantastic

Not On The High Street Customer
'Really good mix – easy to use and works well.... Flavour better with butter but works surprisingly well with a dairy-free spread making it extremely versatile... Easy to roll – doesn't collapse – good firm 'bottom' but nice crisp texture.' 

2017 Free from eating out award Judge about our pastry mix
Hello Sally and Claire, Thank you. the parcel arrived yesterday. That's me stocked up for Christmas. I bake a lot now because of your flour. It has made a big difference to my life. I think it was  one of you that gave me the recipe for a Vegetable Quiche. It is delicious. I hope you both have a Merry Christmas. Kind Regards

Customer
"This is the best pastry we have tried and even better given it is gluten free" 

2017 great Taste Award Judging Panel
Greetings! A dear friend introduced me to your biscotti earlier this year when we met in Scotland for holiday. I live in the USA, and have found nothing comparable here."

Website Customer
 I particularly like your shortcrust pastry mix and made a lovely batch of mince pies for our village film night just before Christmas. It's such a lovely easy dough to use, I'm not going to use anything else.

Mrs P.K
We Are Passionate about what we do and are proud to have won many prestigious awards for our gluten free products including...